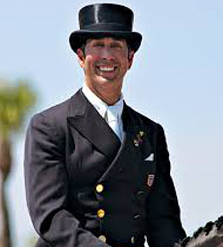 Short Biography
Robert Jeffrey Dover is an American dressage equestrian born June 7, 1956.
Robert Dover started to specialize in dressage at age 19 and competed in his first Olympics in 1984. He then competed in every Olympics between 1984 and 2004, winning four team bronze medals. He also took a team bronze at the 1994 World Equestrian Games.
Dover is one the most honoured and acclaimed dressage riders in the United States, and has been inducted to the United States Dressage Federation Hall of Fame.
As a trainer, Dover served, between late 2009 and early 2011, as the Technical/Coach Advisor for the Canadian national dressage team. In April 2013, Dover was named Technical Advisor/Chef d'Equipe for the US national dressage team until the present date. He also holds private clinics that are strongly acclaimed for their quality and interest.
In a larger human scale, Dover has dedicated for many years an important part of his time and wealth to charity commitments.
Robert Dover will retire from his position of Coach of the Us team in early 2019 and therefore will be holding his Clinic in Sweden in Autumn 2018.