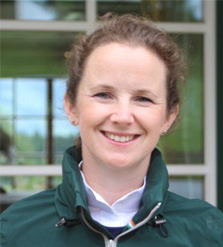 Short Biography
Judy Reynolds is an Irish dressage rider, born 11 June 1981 in Kildare
During the last few years, Reynolds competed at three World Equestrian Games (in 2006, 2010 and 2014), at three European Dressage Championships (in 2007, 2011 and 2015), as well as at a great numbers of 3, 4 and 5 stars CDI such as Munich, Rotterdam, Hagen, Odense, Lyon, London Olympia, Amsterdam , Neumunster...
Her somehow difficult gelding Vankouver K gradually produced more and more consistent performances, allowing an indivilual qualification for the Olympics in Rio in 2016, where she placed 18th in the individual competiton.
Reynolds participated at two editions of Dressage World Cup finals (in 2016 and 2017). Her best result came at the 2017 finals held in Omaha, Nebraska, where she placed 4th.
The Grand Prix Freestyle is generally the test that allows Judy and Vancouver to display their superb qualities at their best, with a level of difficulty higher than any other combination.
Judy lives in Germany, where she takes riders and horses for full time training; she also travels to Ireland on a monthly basis to hold clinics
During the last 8 years, Judy has been chosen 4 times as the Irish Dressage Rider of the Year (in 2008, 2014, 2015 and 2016 )