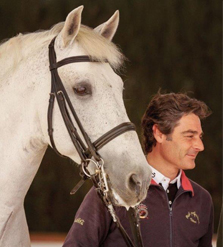 Short Biography
Juan Manuel Muñoz Díaz is is a Spanish Olympian dressage rider, born 19 May 1969
In 2012, and after riding the PRE stallion Fuego for 10 years, Juan Manuel achieved a 10th place in the London Olympics with a score of 75,608% in the GP. After his musical performance, the delight of the audience was obvious.
2012 represented for Juan Manuel the paramount of a decade of training and competing internationally an Iberian horse that he described as "extraverted, joyful, expressive, sensitive and noble".
He had competed in the European championship in 2007, had participated in 2008 in the Beijing Olympics, had won the Spanish championship also in 2008 ; he had performed again consistently in The Europeans in Windsor in 2009 and in the WEG games in 2010 . Along the way, he had accumulated experience , scores around 75 % and had many times been the audience Favourite.
Juan Manuel Munoz Diaz represents Spain in the more classical way . His rides are elegant and expressive and his choreographies, when it comes to a program with music,, are the greatest examples of combination of precise technique with expressive art.
In his own way, Juan Manuel combines the long history of Classical Dressage in Europe with the modernity necessary in our sport as a competition discipline.