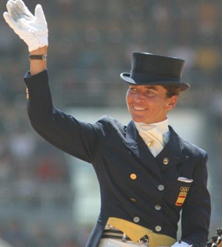 Short Biography
Beatriz Ferrer-Salat is a Spanish Dressage Equestrian, born 11 March, 1966 .
She started riding at age 15, and soon begun training seriously in Dressage. The 1986 Selection of Barcelona to host the 1992 Summer Games Olympics inspired her to become a professional in the sport.
In 1990, Beatriz moved to Germany in order to train with several German trainers of her choice. Quiclky, riding Vital Robert Worislaw and Vital Robert Briliant, she begins showing consistent results at GP level , that lead , in 1996, to her first Olympic games and a 7th place by team.
In 1997, after the death of her trainer, Beatriz moves back to Spain to train with Jan Bemelmans and, together with her horse Beauvalais, a long sequence of medals begins :
-at the 2000 summer Olympics , for the first time, a 10th position
- at the 2002 WEG, she wins a Silver medal individually and a Bronze team
- at the Europeans in 2003, a Bronze individual and a Team silver
- at the European in 2005, another Team Bronze
- at the 2004 Olympics, Beatriz earns a Bronze medal on Beauvalais, and a Team Silver
After the retirement of Beauvalais, Ferrer-Salat trained and competed Faberge and Peter Pan, but it is with Delgado that she finds her top horse again, producing extremely high scores in GP. Unfortunately, Delgado is prone to injuries, and couldnt compete between 2010 and 2012 due toa hoof damage (Beatriz withdrew from 2010 WEG and 2012 Olympics).
Despite these set back and plague of injuries, Beatriz Ferrer-Salat worked on the rehabilitation of Delgado, that came back at his top level in 2015 ( Victory in GPFS in Lyon, Bronze in Aachen, Victory in Stuttgart, Spanish championship in 2016, 10th in the 2016 Olympics, …).
Ferrer-Salat is internationally regarded as an exceptionnally talented rider rand trainer, and "the most sucessful dressage rider in Spanish history".
Since 2010, Ferer-Salat trains with Dutch trainer Ton de Ridder but continues basing her activities from her barn in Gualba (Spain)